Since the pandemic, almost everything, from shopping to learning, has been done online and virtually. This has also brought technological innovations to adapt to how the world has changed since then. Although invented and popularized even before the pandemic, the use of immersive technology specifically, virtual reality, was even more meaningful because of its useful features when all we had to do was stay home and experience things online. Tourism and other businesses were forced to close. Many also switched to online services because of the safety restrictions especially in mobility.
During UP Cebu's celebration of the National Science and Technology Week for the year 2021, a series of webinars were conducted for three (3) straight days from November 24 to November 26, 2021. One of the webinars tackled on the commercial adoption of immersive technology in the country by one of the incubatee from UP Cebu's Technology Business Incubator (TBI), MATAVERSE (visit mataverse.ph). The session's speaker was the co-founder of Mataverse himself, Mr. Ryan Tan Yu. He discussed about the company's history including how it was formed, its changes and challenges through the years, and the impacts that the company has made. He has also highlighted how DOST and UP Cebu's TBI has helped and guided Mataverse as a start-up corporation. One of Mataverse's on-going and notable projects is their partnership with Cebu's Provincial Tourism Office, "Suroy Cebu" which gives a virtual tour to famous tourism spots all around Cebu Province. Yes, that's from the North to South! (access here: mata.ph/cebu)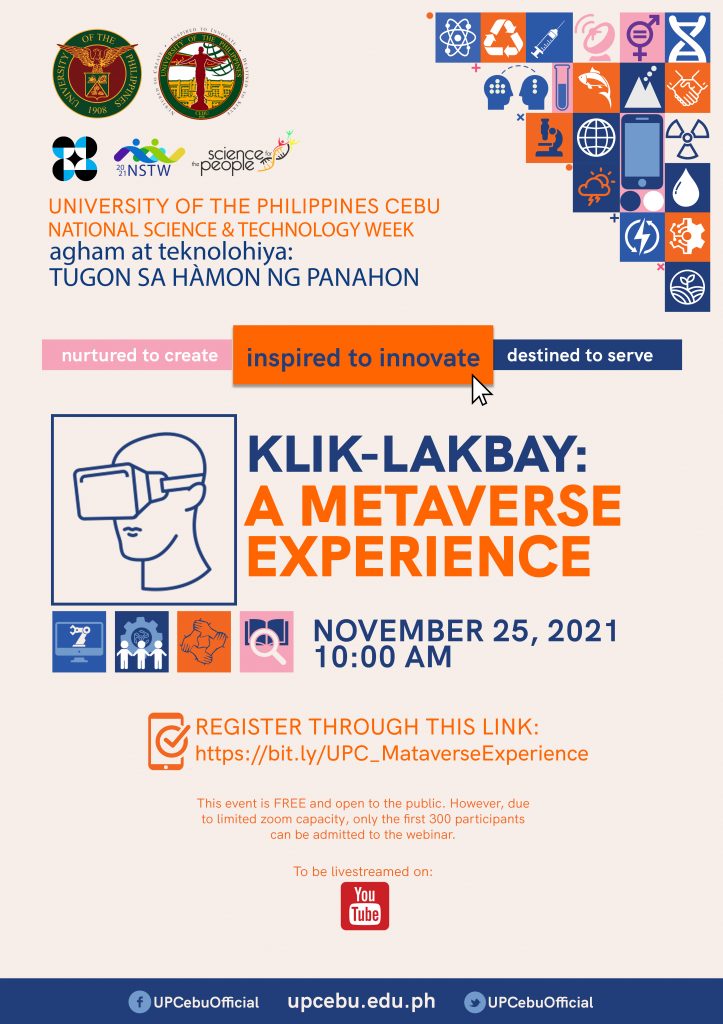 Along with Mataverse's presentation is the official introduction of UP Cebu's Virtual Tour which was also done by Mataverse in partnership with UP Cebu inIT. To experience the virtual tour, click here. The tour highlights UP Cebu's remarkable sites and offices which the students and faculty surely miss because of the current remote learning setup of the University. This includes the Administration Building, the Oblation Square, Library, Jose Joya Gallery, and the Fabrication Laboratory (Fablab) among others.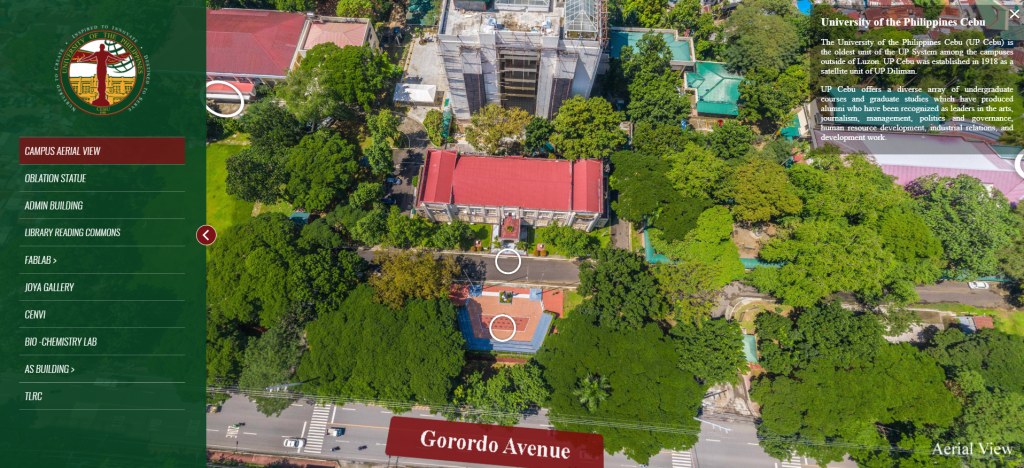 Mataverse continues to partner with other LGU and tourism sites in creating virtual tours. They also partner with MSMEs to help them in commercializing products using immersive technology. This does not only help the tourism sites and businesses which were affected by the pandemic but also impacts the growth and innovation on the use of immersive technology in the Philippines.