Welcome to TLRC, Ms. Naty! 
As we welcome 2022, TLRC also welcomes our new Coordinator, in the person of Dr. Natividad Virginia Estillore. Doc Naty officially takes the post last February 4, 2022, when UP Cebu OIC Chancellor Dr. Clement Camposano approved the recommendation of VCAA Pat Nazareno to appoint her to the post. Ms. Jeraline Gumalal signifies to VCAA Pat last year that she has to take a leave as TLRC coordinator as she has to pursue her plans to enroll in a doctorate program this year.
Programs for 2022
The TLRC proposal to utilize the office API budget for 2022 is not yet approved, our planned program and activities are still put on hold. As soon as it gets a nod, we will be implementing our programs right away. As of the moment, we are also looking for other interesting topics and possible resource speakers to tap, for the teaching and learning enhancement of our students and faculty.
Module Creation Project
We are still waiting for the SARO and fund allocation for the implementation of the project, "Teaching Effectiveness Course Module". The project aims to help newly hired teachers in our university to enhance their teaching. It intends to give them resources to learn the common teaching practices which include the basics of teaching, teaching strategies, and handling students, especially during these challenging times.
Home Again
After typhoon Odette hit Cebu, we are using the Board Room at the Administration Building as our temporary workstation, together with some faculty and staff from CCAD. The first week of February, we have to move back again at the TLRC office, since the Undergraduate building gets fully energized the last week of January, also the wifi and internet connection is restored.
Thank you, Ms. Jerah!
It is just fitting to say thank you to the person who works tirelessly to establish what is TLRC today. Ms. Jeraline Gumalal has been the coordinator in the past six years, creating and conceptualizing programs and projects that benefit both the students and faculty. Thank you, Ms. Jerah and good luck, with your plans and endeavors. You will always have a family in us at TLRC. 
Technical Assistance 
UVEC Training with Prof. Sanchez
Prof. Phoebe Zoe Sanchez requested a one-on-one UVEC training last February 18, 2022. The training was facilitated by Ms. Noelle Anne Seno and lasted for almost two hours.  
UVEC Partnership Meeting with OSA
As part of the continued progress plan in integrating the major offices and services on UVEC, The TLRC and OSA team sat down together to discuss the said project proposal last February 23, 2022. This beneficial partnership already started with the integration of the UPC Library link on UVEC last February 6, 2022. This will make the navigation of our students and faculty between UVEC, UPC online library, and soon with OSA services, without leaving UVEC or opening a new tab. We hope that after these two major developments, we will also be able to work with our other vital offices for the same partnership.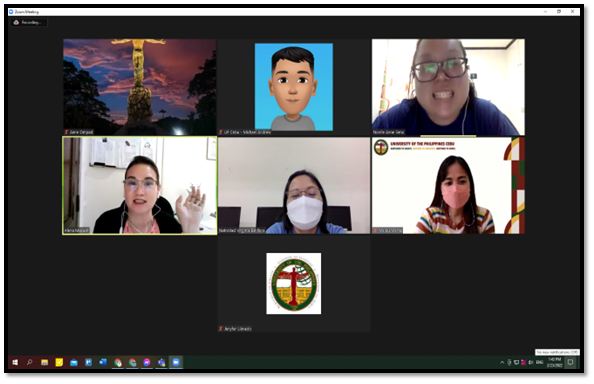 The TLRC Team for 2022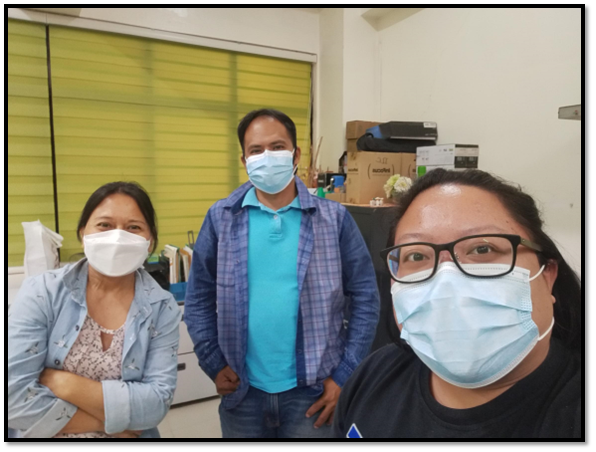 Ms. Natividad Virginia Estillore  – Coordinator 
Ms. Noelle Anne Seno – Technical Staff 
Mr. Michael Andrew Galorio  – Office Staff