The Month of Love for Sharing
The Teaching and Learning Resource Center has started the staff sharing activity for office staff. This month, TLRC kicked-off with Maintaining Good Emotional and Mental State agenda, considering the importance and effects of virtual learning and working.
What is staff sharing activity?
This activity aims to educate and inspired office staff thru the learnings and experiences of our fellow staff, thus from the motto, the experience is the best teacher. Highlighted in this activity are the best practices that they are willing to share to inspire others in whatever challenges they face in this virtual learning and working setting.
Who benefits from this activity?
Everyone who is affected by virtual learning and working will be the primary beneficiary of this activity, especially targeting office staff who are also affected by the change of work setting due to the pandemic. This is the TLRCs response to UP Learning Expo last month that focuses on teachers' and students' experiences during remote learning setup.
How does the university benefit from it?
Since office staff is our front runners especially this very challenging times, it is but vital that we also give importance to the services and hard-work our staff has rendered these very difficult times. Let us value their work by giving them the support they need, as all of us are coping with the challenges the pandemic has brought us.
Learn from the Expert
The COVID-19 pandemic has a major effect on our lives. Many of us are facing challenges that can be stressful. Public health actions, such as social distancing, are necessary to reduce the spread of the virus, but they can make us feel isolated and lonely and can increase stress and anxiety.
Aside from studying, work setting has also changed. Work from home set up has its own advantages and disadvantages. To discuss the topic on the issue focusing on Maintaining Good Emotional and Mental State even on stressful situation, the TLRC tap the expertise of Ms. Jaseluh Saturinas, a registered guidance counselor from the Office of the Student Affairs. Ms. Jas herself is on work from home setting, reporting every Tuesday for her office work.
Ms. Jas elaborated on her video how one can cope with the challenges of the work from home. She emphasizes some tips on how to handle these challenges effectively, at the same time able to meet the deadlines and expected outputs from your work.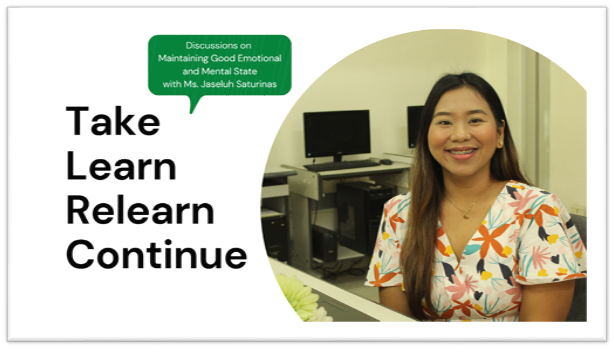 The video recording is scheduled last February 2, 2021 at the TLRC office. It lasted for almost two hours. It begins with subject discussion with the topic, preparation of the set and camera, and plotting the script and dialogues. To maximize the activity objectives, we ask Ms. to base her narratives from her experiences that is also on work from home set up, focusing on the challenges and how she managed to address those challenges. The video is ready to be viewed at the TLRC YouTube page.