Ready to take the Leap
This month, the TLRC officially welcomes our new member who will be managing our technical aspect. Ms. Noelle Anne Seno, an alumna of this institution, is back as our technical assistant. She already served as a research assistant at CVSC on one of its projects. Currently, she is responsible for the pubmat materials that we are using on our email blasting and posting on our TLRC Facebook page. We are also planning to make more pubmat materials, posters, infographics, and tutorial videos that we will deploy on our VLE and infortainment contents for our teachers and students. 
LMS – VLE Update 
This year, the contract of service provider moodLearning that manages our VLE will expire. We already prepared the proper request to have the contract renewed and is already approved by the UP President himself. Currently, the document for processing is already submitted to the concerned offices. The renewal also comes with the needed plugins for two years. 
TLRC Weekend Program 
Our Weekend Program is now open to the public as long as they have a zoom account. Our participants came from all over the country, as our webinar invitation is being opened and shared with other CUs as well. Not just for the UP community, our registrants came even from other universities both in public and private. With the popularity of online webinars because of the pandemic, some participants come from outside the country as well. 
Look, Listen, & Link: Basic Principles of Psychological First Aid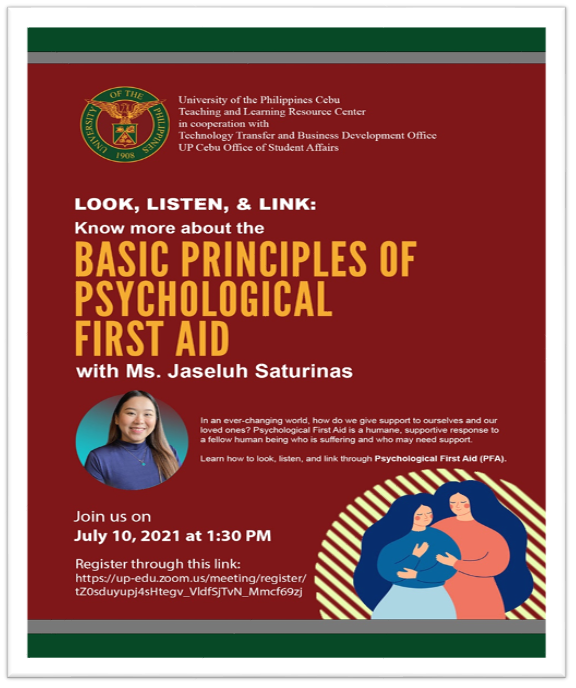 This pandemic has brought many challenges to all of us. Not just the way we study but our way of life has been changed, others for the better and some are for the worse. Quarantine and strict health protocols force us to be alone and tested both our physical and emotional soundness.
Every one of us is coping differently with this crisis. Some of us show resiliency and suffice above the pandemic. But there are some who do not and need support to be able to withstand and face their own challenges. Psychological First Aid (PFA)  is an evidence-informed approach that is built on the concept of human resilience.  PFA aims to reduce stress symptoms and assist in a healthy recovery following a traumatic event, natural disaster, public health emergency, or even a personal crisis, just as many of us are facing in this pandemic. 
For our TLRC Weekend Program, we started with the Psychological First Aid (PFA) Webinar for the month of July with Ms. Jaseluh Saturinas of the Office of Student Affairs. The webinar started at 1:30 PM last July 10, 2021. This is one of the webinars where we have the most number of participants, reaching 1184 in total. PFA is an initial disaster response intervention with the goal to promote safety, stabilize survivors of disasters and connect individuals to help and resources.