Alone, Together
This month, the TLRC started to conduct our Psychosocial Development Programs as part of our Weekend Programs for Teachers and Students. This program is in connection with the Needs Assessment Survey conducted last April 23, 2021. This pandemic has isolated us, taught us to study and work alone. Although many show resiliency, we know that there are many more who needs assistance as all of us are coping differently in this crisis. We may be alone physically but know it in ourselves that we have a family, a friend, a colleague, a teacher, and a therapist who are more than willing to help. They might not be there physically, but technology nowadays makes us closer than ever. For we are all together in this pandemic.
Ready to take ahead 
We have officially welcomed the addition to our roster, Ms. Noelle Anne Seno, our new Technical Assistant here in TLRC. She will be the main person regarding the management of our VLE. With our new technical assistant, we are now able to implement our set aside plans, especially with the creation of pubmats for our webinars and the management of our social media pages for greater information dissemination.
ILC Room Update 
The TLRC-ILC Room is still being used as the storage area of CENVI, as their office is currently renovating. We are checking the ILC from time to time to monitor the premises and the facility.
Weekend Programs for Teacher and Student 
The weekend programs are subdivided into three groups. (1) Instructional Assistance and Enrichment Program, (2) Psychosocial Development Program (PDP), and (3) Student Tracking and Evaluation of Learning Assistance Effectiveness. The PDP is in full swing with the conduct of the Mental Health Support Webinar last June 5, 2021, as the opening session of the many more webinars in line. 
Knowing more about SOGIESC
In observance of the International Pride Month, which is celebrated every 28th of June worldwide, we include the SOGIESC topic in our Psychosocial Development Program, as part of our Weekend Programs for Teachers and Students. The awareness webinar is conducted last June 19, 2021, with our Gender and Development Coordinator, Dr. Charmaine "Shane" Carreon as the resource speaker.
All people have the same rights and freedoms, regardless of their sexual orientation, gender identity, and expression and sex characteristics (SOGIESC). SOGIESC is an umbrella term like Rainbow. It includes individuals who are lesbian, gay, queer, bisexuals, and transexuals, pansexuals, and asexuals. A person's sexual orientation refers to who they are attracted to and form relationships with. Everyone's sexual orientation is personal, and it is up to them to decide how they want to define it.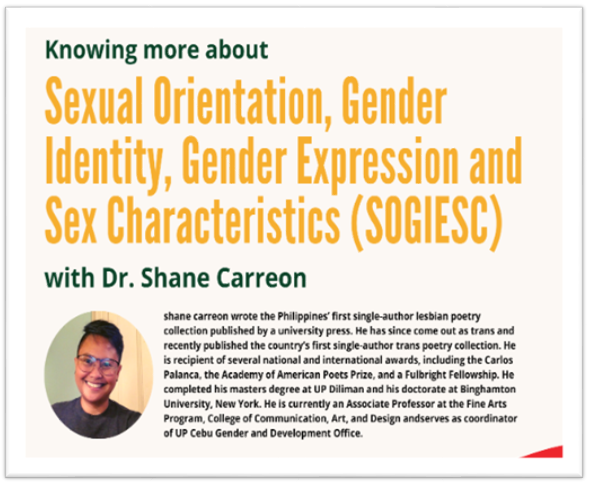 At TLRC, we believe in a world that recognizes, accepts, and celebrates diversity regardless of any distinction, including sexual orientation, gender identity, and expression. Together with the University of the Philippines Cebu community, we work to inform, campaign, and promote a culture of inclusivity and create spaces where individuals with diverse SOGIESC are safe and free to express themselves. 
VLE Retraining Course
This retraining course is an implementation of the Weekend Teacher Program Survey that was conducted last April 23, 2021. Several teachers choose to have this retraining course, as a refresher on how to navigate and other needed training skills on our VLE. The training sessions are scheduled every Friday morning, 10 AM – 12 PM. The meeting was done over Google Meet and recordings of the retraining course is posted on TLRCs YouTube Channel.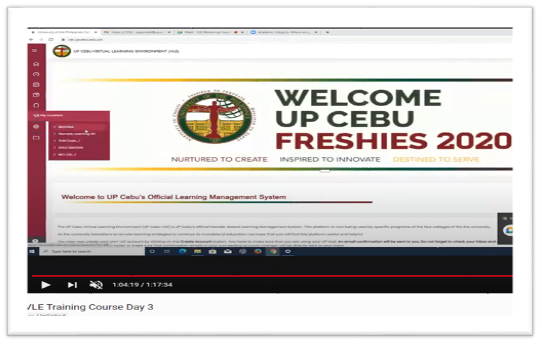 SMEs Training in Bantayan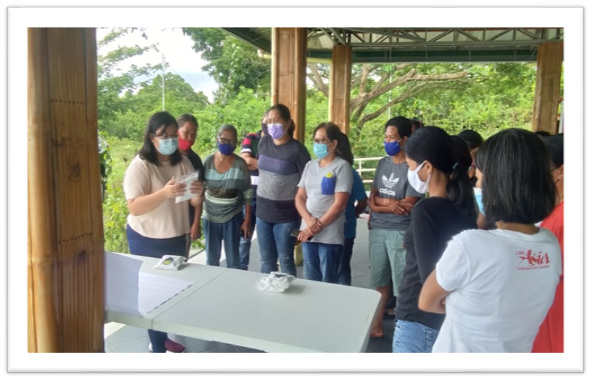 We at TLRC have been tapped to be part of the SME livelihood training at Sitio Paypay in Daanbantayan. Headed by our Chancellor, and Mr. Jason Nieva of TTBDO, our group departed from the campus at 6:30 in the morning last June 12, 2021. The heavy rains nor the flooding along the way did not stop us on our mission. We are cordially received by the participants, who showed eagerness in the duration of the training seminar. Our group departed from Daanbantayan going back to the campus at around 4:30 PM. 
The programs start with the Chancellor, discussing the background of the program, the laws that which the program is anchored, and all the legalities and benefits that one will enjoy if they register their product in the government. The Chancellor also focuses that the university is more than willing to help should they need any assistance along the way, as the campus has also a Go Negosyo office that is also in partnership with the Department of Trade and Industry. 
TLRC Weekend Programs
Mental Health Support
Mental health refers to cognitive, behavioral, and emotional well-being. It is all about how people think, feel, and behave. It also helps determine how we handle stress, relate to others, and make choices. This is the first leg of the webinars under the Psychosocial Development Program, with Dr. Annabelle Maglasang from the Office of Student Affairs as the resource speaker. The attendees are limited only to students and teachers of the university.