Facing the Challenge
This month start with the declaration of MECQ in the City of Cebu, Mandaue and Lapu-Lapu because of the rising number of individual infected with COVID-19. The TLRC has adapted a work rotation to maintain social distancing and adhering to the safety protocols implemented in the campus in lieu of government mandate. Even with the challenges brought about by this setup, we have always strived to fulfill our mandate, as the wheel of education never stops. 
RL 101 
As the new academic year is about to start, our university will accept a new batch of students for this year. To integrate our freshmen into our learning management system, we created infographics and materials to teach our new students on how to maneuver through our VLE. Through this non-graded and non-compulsory course, we hope to give information to our new students on how to maximize their learning with the VLE. We adapted it according to the mandate of UP System to help incoming freshmen get ready for remote learning. TLRC helped in creating RL 101. 
Action Research: Mentoring Program for Cebu City Don Carlos A. Gothong Memorial National High School 
The TLRC, through its Coordinator Ms. Jeraline Gumalal, has been tapped to provide both technical assistance and as mentor in the culmination program of the Action Research Mentoring Program for Don Carlos A. Gothong Memorial National High School teachers last August 26, 2021.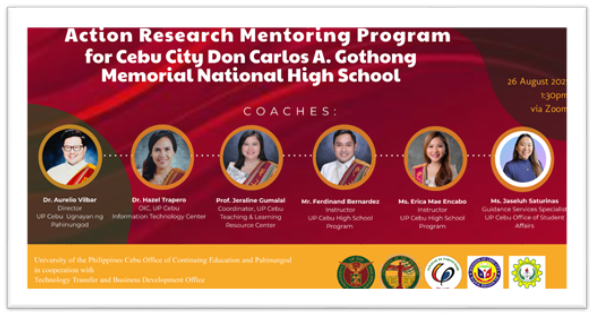 Empathetic Leadership
Why is empathy important in leadership? Empathy is one of the biggest leadership skill needed especially with managing a team. Being able to listen and respond with empathy is one interaction skill that would gain the trust and confidence of your colleagues in the workplace. Empathy is a universal team value that promotes high commitment and cooperation among workers.
Showing empathetic leadership will bring many benefits, as the staff will be more loyal, more engaged, and will work better with other colleagues and will do better in dealing with customers. Also, the staff will be more creative as they perceive that they are part of the organization and feel heard and appreciated and with themselves look for ways to add value to the organization. Lasty, everyone will be happier as job satisfaction increases.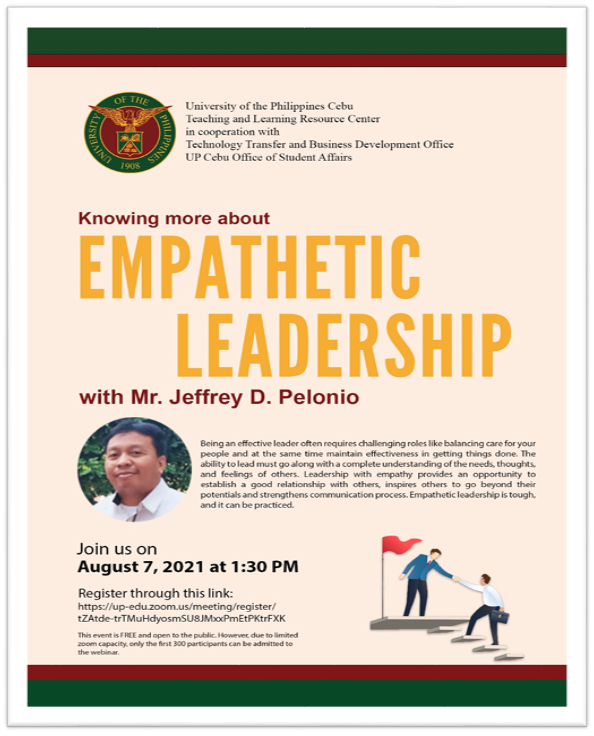 For August, we started with Empathetic Leadership with Sir Jeffrey Pelonio of OSA as the resource speaker. The webinar discusses on how to be an effective leader that balances how to care for his subordinates at the same time able to inspire to get the job done.  
This webinar has a total of 1197 registrants and 365 participants in the actual webinar.