Power to Empower
As we celebrate World Teachers Day last October 5, we at TLRC also revved up the academic and teaching series webinars. This month also drops the final curtain as we close the Psychosocial Development Program (PDP) webinar series partnered with OSA. Momentarily, we are planning to reorganize and revamp our PDP topics for next year. We are also currently looking for possible topics and resource speakers to add up to our list of webinars and service offerings. 
Extramural 
UP Cebu is hosting the International Extramural in commemoration of the 500th year of Magellan's Landing in the Philippines, which is scheduled to run from October 26 – 30, 2021. For the grand opening on October 25, the TLRC is tapped to provide technical assistance by facilitating the video recording of the messages of some of the university's key officials to be played on the extramural. 
Dean Abad's Recording 
Atty. Francis Michael Abad, Dean of the College of Social Sciences, visited the TLRC office last October 19, 2021, at around 2:00 PM, for the video recording of his message to be played at the grand opening of the International Extramural this coming October 25, 2021. The recording finished at around 3:00 PM, and the edited video has been forwarded to CVSC.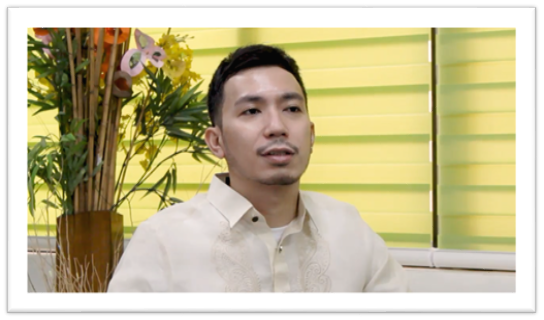 VLE Training by moodLearning 
Our maintenance and service provider that runs our VLE is scheduling a self-paced training course for our faculty. This is to address questions and queries about our VLE straight from our providers. The course will cover introductory topics to the management of VLE, and the generation of analytics and reports. 
MoodLearning, our maintenance and service provider for our VLE, has scheduled training for trainers to our faculty in using VLE. A 4-hour training using the self-paced module covers introductory lessons to the management of VLE, adding of activities and resources, modalities of communication and collaboration, and generation of analytics and reports. A total of 9 faculty attended the training last October 28, 2021, from 1:00 PM to 5:00 PM. 

Quality Assurance and Tertiary Education 
The Office of the Vice-Chancellor for Academic Affairs, through Dr. Patricia Anne Nazareno, tapped us here at TLRC to provide Zoom hosting and technical assistance on their API project. The meeting happened last October 20, 2021, from 9:00 AM to 12:00 PM. Faculty and Staff of the university are enjoined to attend the meeting, with Prof. Alyssa Peleo-Alampay, the system Assistant Vice President for Academic Affairs as the resource speaker. The objective of this orientation is to raise awareness of the importance of Quality Assurance in tertiary education.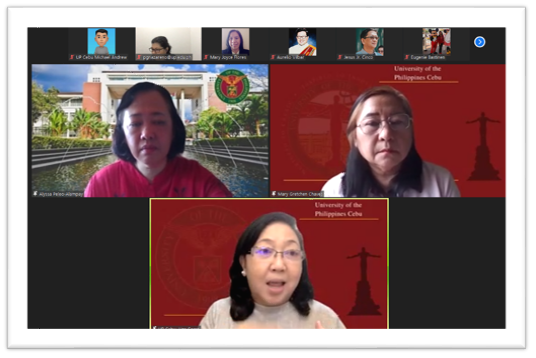 Managing Business in the Post Pandemic Era 
This webinar is from the initiatives of the UP Cebu High School and OCEP with its Director, Dr. Aurelio Vilbar as the series host. With its pool of expert speakers, the webinar tackles business resiliency and managing the business post-pandemic. The speakers share some points on how to recover in these challenging times, and how to meet deliver services in the new normal with digital marketing and digital payments. Also discussed, on how the government discusses these current issues and what the government is doing to support thriving businesses. 
Research Ethics for Teachers & Students
Research has been a part of every student's academic life. With the K-12 program, students as early as Grade 8 are already required to undergo research in certain subjects. Every after webinar we have at TLRC, Research was among the requested topics by participants for our future webinars. 
Research Ethics is a set of rules in conducting scientific investigations. Research is expected to follow ethical participation to protect the research subjects' dignity, rights, and welfare, especially if it involves human participation. Research Ethics includes principles of beneficence, justice, and autonomy throughout the conduct of the investigation.
This webinar is very much welcomed by participants. The zoom meeting is at maximum capacity from start to end, and the YouTube live streaming has peaked at more than 900 viewers. Although the webinar faced technical difficulty because of internet disruption, the webinar is very successful  and received many commendations and requests for reruns. 
The webinar has a total of 3873 registrants and an actual participant of 1485.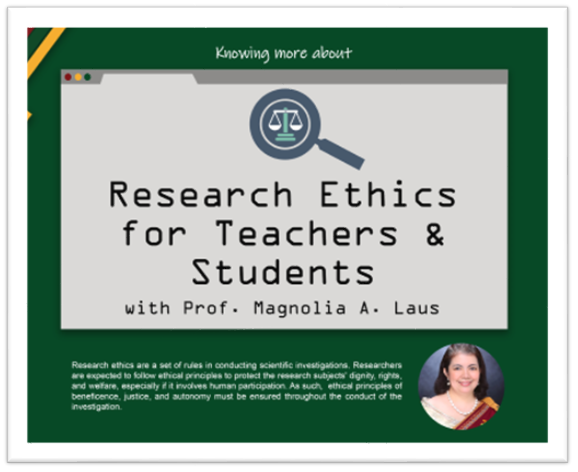 TLRC Weekend Programs
Building Resiliency
Theoretically, building resiliency is like building immunity to protect the body from disease. The stronger the resiliency, the more protection a person has against certain risk factors. This uncertain time especially the pandemic, one should know how to deal with the challenges and changes his life and career has faced.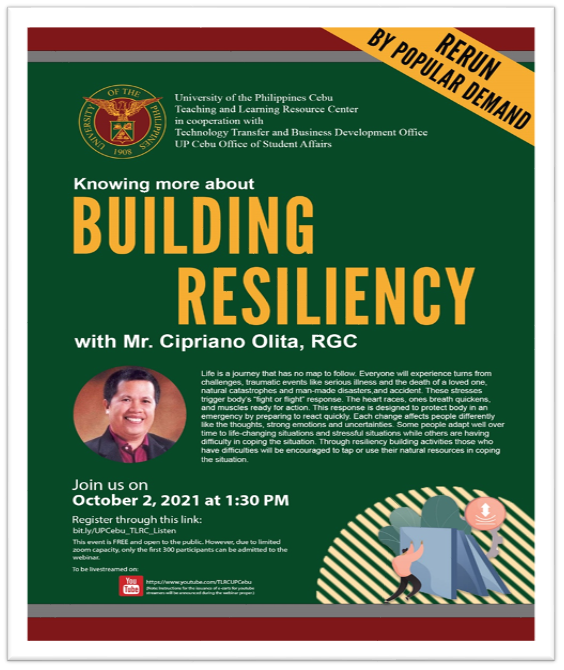 Caring for Students with Anxiety and Depression
The remote learning approach brought by the pandemic has a toll on everyone, especially the students when almost all of us are not prepared by the online set-up of delivery of services and learning. This webinar is the final topic on our Psychosocial Development Program, in partnership with OSA, as part of TLRC's Weekend Program.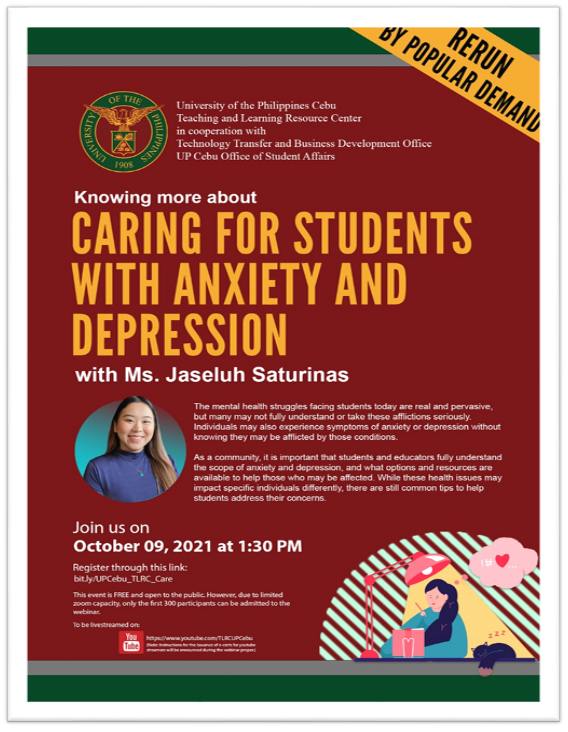 Integration of Social Media in the Teaching of Literature
With the remote or digital approach in delivering the learning because of the pandemic, social medial has been one of the venues where teaching can be done. The use of these social media has been effective because most of these applications can be used on free mobile data. This webinar by Prof. Encabo will talk about maximizing the potentials and benefits of these social media especially with the teaching of Literature.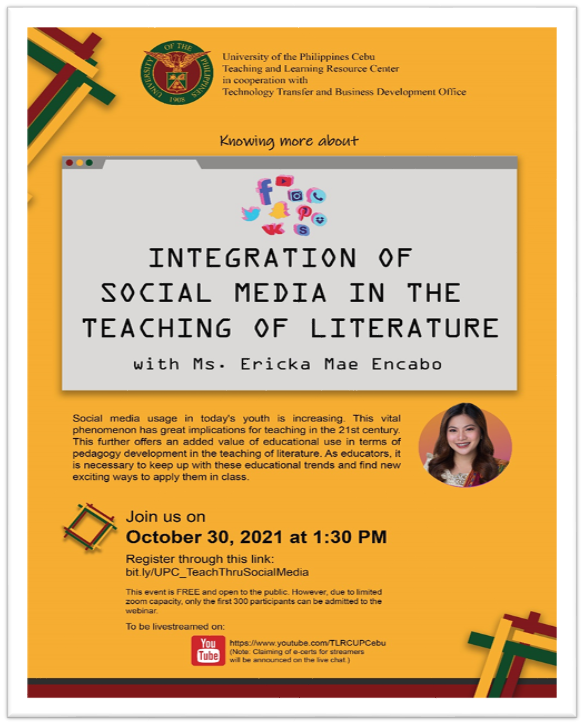 TTBDO Programs 
​We officially launched our webinars that in partnership with TTBDO, as Mr. Jason Nieva, as the resource speaker. The three Saturdays webinar will focus on topics in copyrights, business and trademark, and gaming and intellectual property. The topics were designed to accentuate the teaching and psychosocial webinar series.
Copyright: A Review
Even with the online remote learning or the so-called new normal in conducting classes, both teachers and students should be aware that not everything they can see or research on the internet can be shared especially online. Most especially to teachers, that learning materials should not infringe on any existing copyright materials by other persons. This webinar aims to give a general overview of the topic of copyright.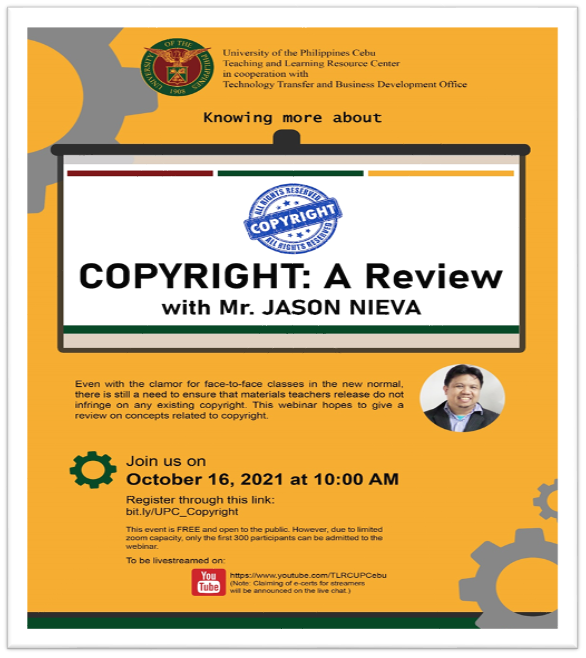 Your Business and Trademark
This webinar will discuss business and the importance of having a trademark on your business. It also gives general information on how to register your business, what government offices to go into, and the fees and payments in registering. Also shown were famous landmark cases by businesses against those who copy their business trademarks.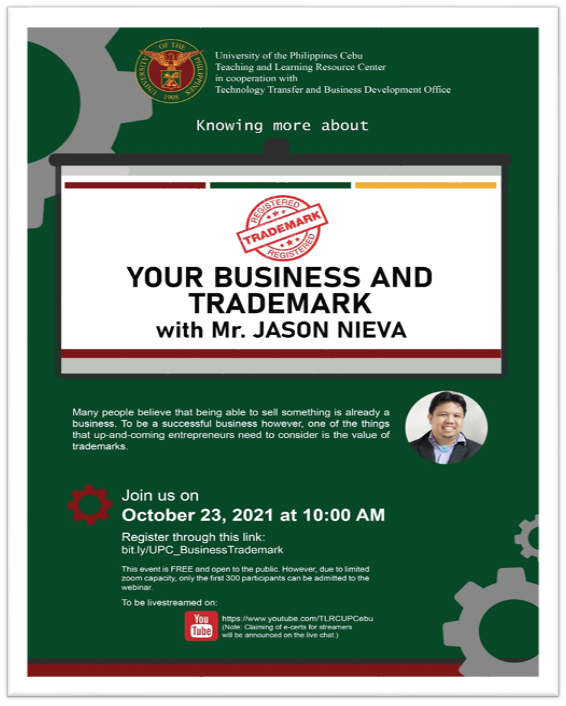 Gaming and Intellectual Property
Virtual reality gaming, online and offline gaming are becoming more popular these days. With the vast number of games available on the internet, issues with originality and ownership have become a legal battleground to many. This webinar gives insights into how games are applied for trademarks and intellectual property. It also shows landmark cases involving game creators, companies, and individuals.